Rogue 8" Scuffle Hoe (80S) with 60in Ash Handle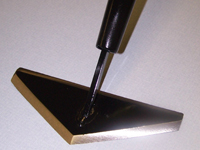 Rogue 8" Scuffle Hoe (80S) with 60in Ash Handle
This 8 inch wide Scuffle hoe is for the gardener or landscaper who has lots of ground to cover. It cuts pushing or pulling and will be a tool you reach for often.
Available with a 60" Ash Handle
sold out
Each Rogue Tool is hand crafted. The grinding, welding and sharpening are all done by hand, and quality is still our most distinguishing characteristic. We still make all of our hoes from recycled agricultural disc blades. Not just because it is an environmentally friendly thing to do, but also because it is the best tempered steel for the job. In fact, we feel confident that our Rogue field hoes are the strongest hoes made in the USA.